ANG THONG ATTRACTIONS
KOH MAE KOH

Koh Mae Koh means Mother Island and is the island's landmark with the emerald green saltwater lagoon Thale Nai, connected to the sea by underwater caves. A 20-minute walk leads from a nearby beach to a terrific viewpoint over the lake.

KOH SAM SAO

Situated on the east side of the mother island, Koh Sam Sao has several beaches, a great coral reef and a campsite. Tents can only be rented from the headquarters in Ko Wua Ta Lap. There are no shops or restaurants located on the island.

WUA TA LAP

The spectacular viewpoint, which is the park's main attraction, can be reached via a 500-metre steep trail from the headquarters. The trail is not for the faint-hearted, takes 25-30 minutes to hike, has a rope for assistance and points the way up.
ALL YOU NEED TO KNOW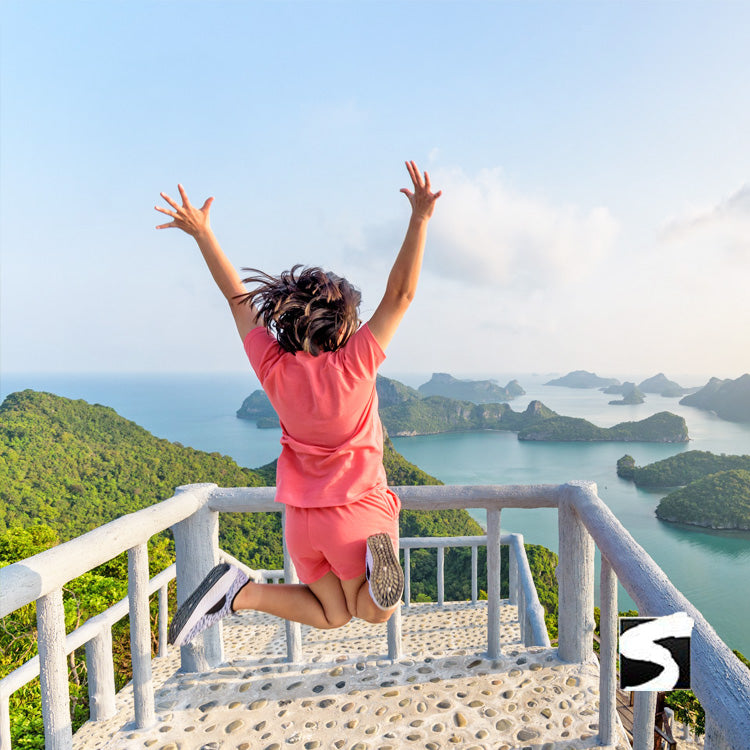 Mu Ko Ang Thong National Marine Park

Mu Ko Ang Thong (Golden Basin) is one of the most beautiful marine National Parks in the Gulf of Thailand. The National Park is located in Surat Thani Province on the coastal side between the mainland and Koh Samui. It covers 42 islands with a total area of more than 102 square kilometres, of which about approx. 50 square kilometres is terrestrial, and the rest is water.

The park was firstly established on 12 November in 1980. The important islands include Koh Wua Ta Lub, Koh Phaluai, Koh Wua Chio, Koh Mae Koh, Koh Samsao, Koh Phai Luak, Koh Ka, Koh Hin Dub, Koh Wua Kantang, etc.

The islands were once the forbidden territory of the navy, but later people migrated and settled there. The occupations of these people are coconut plantations, fishing and collecting birds' nests (there is a concession for swallows' nests on the island) in village No. 6, Ang Thong sub-district, Ko Samui district.

The Park is also very famous from the cinema film "The Beach" though Leonardo DiCaprio fights against crocodiles at the bright blue lake.
When is the best time to visit Angthong National Marine Park?

A visit to Ang Thong Park is possible all year round, except during the closed regeneration season. However, the best time to visit Ang Thong National Marine Park is usually from February to October when the weather is at its best and the sea is calm.

This year, however, the National Park is not closed during the winter monsoon months from November to January and you can enjoy your marine tour to the fullest.
How to get to Angthong National Marine Park?

There are no regular ferry services to Angthong National Marine Park, hence the best way to visit this wonderful National Marine Park is on a joint or private day trip.

Currently, the only day tours visiting to Angthong National Marine Park are departing from Koh Phangan or Koh Samui.
What to do in Ang Thong National Park?

On the island of Koh Wua Ta Lap (the sleeping cow's eye) is the headquarter located, it features park accommodation, a campsite, a visitor centre, a restaurant/shop and a ranger station. The stunning Pha Chan Charat Vewpoint is also located here. The white sand beach offers other activities such as swimming, snorkelling and canoeing/kayaking.

Another park highlight is the Blue Lagoon (Emerald Lake) called Thale Nai and the beautiful greenery surroundings.

Of course, there is also snorkelling on Koh Woa Island, and there are many other islands to spot from afar.
Do you need to book in advance to visit Mu Ko Ang Thong National Park?

As the Ang Thong National Park trips are very popular, we strongly recommend booking the Mu Ko Ang Thong National Park tours in advance to ensure availability.

You can book now and pay conveniently on tour day!
Which experiences are best for tours in Ang Thong?
Can you stay on Ang Thong?

Most visitors to Ang Thong arrive on a joint day trip or by private boat charter from Koh Samui or Koh Pha Ngan. For those who wish to stay overnight, there are 5 hotels listed (one is temporary closed) on Google. Camping tents are available to rent at the Park Headquarters on Koh Wua Talab, where there is also a simple restaurant.

1. Koh Phaluai Beach Bangalow
2. Koh Phaluay Eco Resort
3. Phaluay Beach Resort
4. Koh Phaluai Cottage
5. Phaluai Seaview Homestay

Prices are ranking from 1100 THB up.
Hike to Pha Chan Charat Viewpoint

The 500-metre steep walk up to the Pha Jun Jaras viewpoint is arduous, but totally worth it.

Although the name sounds a bit like a cliché "bright moon", it is fitting when you arrive and see the water glistening around the forested limestone cliffs in the distance.

It takes most people 30-45 minutes to climb up and a little less to descend. Allow some more time for photos.

Hiking up with flip-flops is not recommended.
Green Lagoon (Emerald Lake)

It takes a 20-minute walk to reach Emerald Lagoon, arriving at a small beach and walking off the boat and up the steps over the mountain.

The green-hued saltwater lagoon is encircled by millennia-old limestone cliffs – a cinematic locale that has Hollywood's stamp of approval.

Tourists are not allowed to swim or snorkel in the lake, so the water remained as still as a glimmer of glass that no one dared touch.
Rules and regulations

All parks have rules and regulations. Rules are not just there, they are used to prevent damage to Angthong National Marine Park and its surroundings. Rules are also used to keep people using a park safe. If someone breaks a rule, there can be consequences such as a fine to be paid. Parks are for everyone and they are important for the environment. When people use a park properly, everyone enjoys it.

- Check the depth, temperature and current before swimming and be careful at the water's edge.

- Do not take your pets with you. Pets can scare or kill native wildlife; even the smell and sounds of dogs and cats are enough to scare away native wildlife.

- Take all your rubbish and litter home with you. Leaving rubbish in a bin can encourage animals to rely on human food.

- Leave plants, animals, stones, shells and soil as you find them. Stay on the trail if there is one. Disturbing stones and soil endanger animal and plant life and destroy their habitats.

- Use toilet facilities, not the bush. This will minimise damage to plants and soil.

- Do not stand on corals or kick corals with fins, they are alive!

Electric in the park
Electricity is only available from 18:00 to 22:00 and is generated by a diesel generator. Feel free to bring solar powered battery chargers.

Internet and mobile phone service
Free internet wifi signal is available on the main island of Koh Whua Talap (in and around the restaurant) as well as mobile phone signal and landline. 3G also works well.